Virtual Demonstration requested by the Flagstaff Library for their Tosho-Con event in 2020.
Sanrin Mountain Dojo is an official Nami ryu Aiki Heiho dojo under James Williams sensei. Williams sensei is one of the top proponents in the world of Japanese sword and unarmed combat arts.
Our curriculum includes practical jujutsu and aiki applications which are subtle and extremely effective. These techniques remain true to their original purpose and principles, which are firmly rooted in a world where edged weapons were the norm. Nami ryu is well suited to law enforcement and military as well as home defense and personal self-defense.
Nami ryu Aiki Heiho is based on Japanese sword arts (kenjutsu, iaijutsu and tantojutsu), the principles of which directly apply to the unarmed martial arts (jujutsu, aiki) that were the exclusive martial arts of the samurai. Later these arts formed the basis of modern arts including Brazilian Jiujitsu and Aikido.
Rates & Payment
Dues are handled through an automated billing system. Monthly fees range from $50 – $85 per month depending on your training program and frequency. We have special membership programs for families, military, and first responders. We also offer a contract scholarship Uchideshi Program for students who are able to commit to a more rigorous training approach.
Private Lessons
Available by request.
Chief Instructor



Jim O'Connell  shown above with Greene sensei (Kaicho-dai), Williams sensei (Kaicho), and Aschbrenner sensei (Sempai) has been training in martial arts since 1973. Jim's martial arts experience includes:
• Aiki-jujutsu – Samurai unarmed art
• Kenjutsu – Samurai sword art
• Iaijutsu – Samurai sword art
• Samurai Jujutsu – unarmed art
• Tanto jutsu – Samurai knife art
• Komagawa Kaishin ryu –Shinbukan Kuroda ryugi
• Tamiya ryu – Shinbukan Kuroda ryugi
• Shishin Takuma ryu – Shinbukan Kuroda ryugi
• Kuk Sool Won
• Kick-Boxing
• Escrima
• Systema-Russian military art
• Kyokushinkai & Shotokan Karate
Instructional Experience
• Nami ryu Aiki Heiho – Certified Instructor and Fukukaicho of Nami ryu Aiki Heiho, Currently teaching: Kenjutsu, Iaijutsu, Aiki-jujutsu, Systema – Instructor: James Williams, Kaicho
• Tetsu Hana Ryu – Yudansha (Black Belt) Rank (1990 to 1995)-  Instructor: Robert Phebus
• Kuk Sool Won – Yudansha (Black Belt) Rank, World Kuk Sool Won Association (1984 to 1995)-  Instructor: Ken Duncan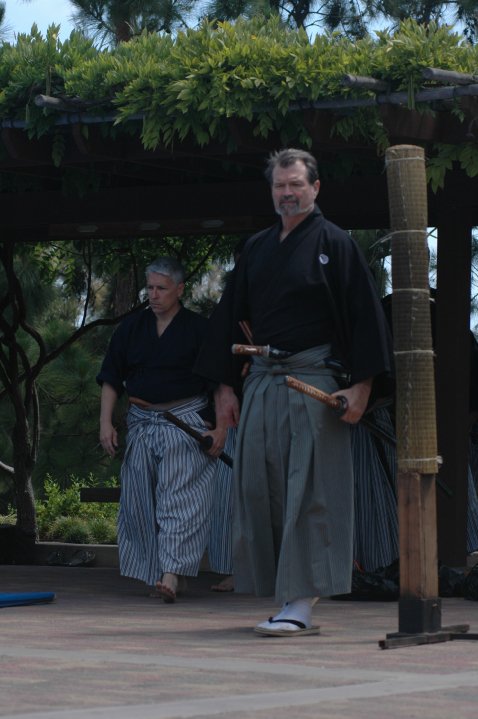 Additional Instructors
Earl Giffen – Earl began training in Nami Ryu in 2011. He originally trained under Randy George sensei of Fresno and subsequently moved to San Diego to train directly with  James Williams sensei in 2015. In addition to studying martial arts, Earl is an ardent marksman and outdoorsman. He currently works as a systems engineer in the financial industry.
Nami Ryu Aiki Heiho – Instructor: James Williams, Kaicho
• Aiki-jujutsu – Samurai unarmed art
• Kenjutsu – Samurai sword art
• Iaijutsu – Samurai sword art
• Samurai Jujutsu – unarmed art
• Tanto jutsu – Samurai knife art